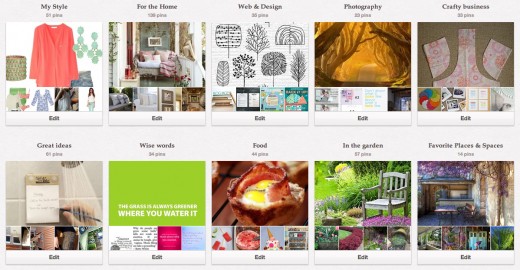 I love Pinterest. There are so many clever, creative, wise, funny, beautiful people on there that it didn't take long till I was inspired up to the eyeballs. So I pin, pin, pin filling up boards with wonderful ideas from these people.
I'm starting to see a problem though. Although I'm doing lots of pinning inspirational stuff, it tends just to sit on my pin board. I occasionally take a break from pinning to go back and have a look at my boards, but I'm beginning to wonder if this is just another type of hoarding. Eeek!!
But, if I were to actually use some of the ideas on my boards – you know, put them into action – then it wouldn't be hoarding. Would it? I think a plan of action is required!
Plan of Action
I will pick one thing from any of my Pinterest boards each month (more or less depending on the project length) and implement it. Yes, in no time at all my home will be looking like a magazine spread, I'll be cooking up a multitude of healthy, delicious meals and I'll be dressed to impress 

Here's a few I'm considering starting with …
A beautiful laundry
Some pretty grain sack cushions
Put together some new outfits
Thanks to the wonderful Michelle Bridge's 12 Week Body Transformation, I'll be game to wear shorts like these this summer!
Redecorate the boy's bedroom
Actually, we started this one on the weekend. Hopefully, it will be finished by next weekend!
Replace the driveway hedge
Do you have any real life Pinterest projects on the go? Do share! You can find me here on Pinterest.