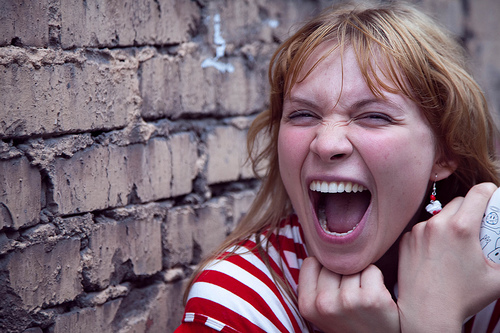 I have been living with no internet connection for the most part of a week. Let me tell you, it sucks.  I can quite happily go tech free for weeks at a time when we're camping. At home it's different though. There a lots of things I need to be distracted from here.  Like ironing. And washing. And ironing. And vacuuming. And ironing.
Here is a a little plea for help I wrote while avoiding the, um, ironing …

I have no internet.  Actually, it's worse than that.  I have a teasingly sporadic internet connection.  On for two minutes, off for thirty.  I'm going crazy.  I sit here hitting the refresh button hoping that I'll catch a two minute phase.  Then I get cranky and it's all I can do not to stomp on my laptop.
On a positive note, the washing is done, most of the kitchen cupboards have been decluttered and the floors are clean.  That's good.  And bad.  It's bad because it is glaring proof that I spend too much time online.
Aside from reading fab blogs, checking out beautiful pics on Redbubble and catching up on Facebook, I can't believe all the little things I can't do without an internet connection.  When did I become so reliant?
I can't balance our budget because I can't download our transactions.  I had to scour my recipe books for ages instead of getting instant gratification from typing "slow cooker recipes" into Google.  And who is that chick in Enchanted?  I need to know!
Save me Telstra!!
Well, save me they did. You won't often hear a good word about Telstra from me (something to do with taking 18 months to credit back incorrect charges on my account & speaking with a gazillion people at least once a month for it to happen). But there it is, once the internet problem was referred to them it was fixed in no time. So, thank you Telstra.
PS: I still have three large piles of ironing, Telstra … so if you could just send someone over to help with that I'll sing your praises from the mountaintops.