Over Easter we piled into the car and took the caravan down to Eagle Point, in Gippsland.  As always, the kids were very excited about going away.  Perhaps even moreso this time, because we managed to squeeze their bikes into the car.
Eagle Point was a great central location for exploring east Gippsland and the weather was super kind to us.  The Mitchell River was just a short walk away from the caravan park.  As we discovered when we were wandering aimlessly around enjoying our surroundings, there is a lovely walking/bike track along the river.  A great place to wear out the kids, not that they needed any encouragement.
I'm always surprised at what they will find to amuse themselves when we're away, that they probably wouldn't look twice at when we're at home.  This trip it was river rocks.  First there was one, affectionately known as Rocko.  As we walked along the river the kids began to collect Rocko's family – brothers, sisters, mum, dad and even cousins.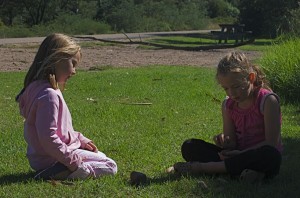 The girls sat down on a grassy patch and played "rock families" for a good twenty minutes before it was time to head back to camp.  It was a reasonably long walk, so I wasn't surprised when Little Mermaid (4) start complaining her legs were getting tired.  And I had to laugh when I turned around to see her pockets bulging with Rocko's family.  Perhaps it might be easier to walk if you empty your pockets, I suggested.  But there was no way she was going to abandon her new friends.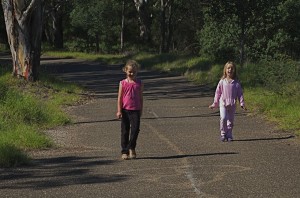 Another five minutes down the track with Little Mermaid dragging herself along The Thinker started to feel sorry for her and offered a shoulder ride – as long as the rocks stayed behind.  I was surprised at the number of rocks she'd been carrying along (if you look carefully in the photo above you can see her bulging pockets).  Reluctantly, one by one she pulled them from her pocket.  Each one known by name and given a heartfelt goodbye.  There would have been 3kg of freeloading rock family in there!
Rocko got to stay and now lives on the dressing table – a simple reminder of a wonderful holiday.