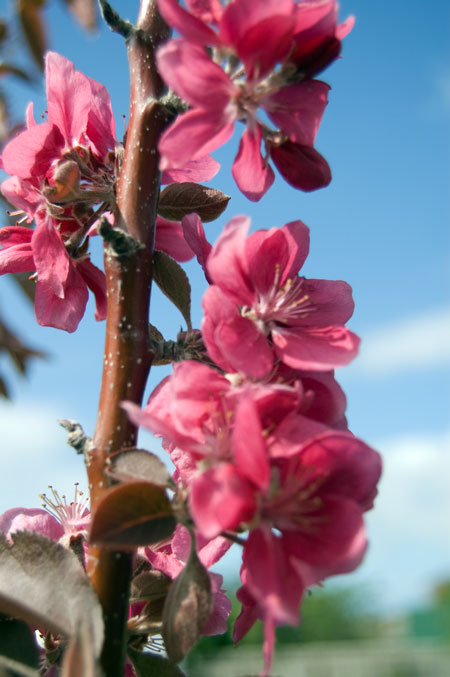 Now that the weather's warmer more often than it's cold, we've been tempted out to the food garden.  At the moment we're not getting much in the way of food, although hopefully that will change in the next eight weeks or so.
We have been pinching some leaves off our little iceberg lettuces for salad.  I don't think it affects the development of the big lettuce head later, although I wouldn't mind so much.  I prefer the loose leaves to a whole lettuce anyway.
Most of the fruit trees are done with their blossoms.  The lovely blossoms up the top of the page are on our crab apple.  I never actually do anything with them, although the kids eat them straight off the tree.  I can't; they make me go all squinty and shivery.  But I do like the blossoms.  Lots.
The bugs have already moved in to munch on our fruit.  We're going to try nets this year to keep the birds away.  They eat more than the bugs.
I'm not sure what's with our plum tree.  In five years we've been lucky to get 10 plums a year off it.  What you see here is about the grand total for this summer.
The vegie patch will hopefully fare a bit better.  We're trying strawberries in the patch rather than pots this year.  I always forget to water the pots and there go the strawberries.
We've put in carrot seedlings and seeds.  Fortunate, because The Engineer planted his beetroot right over the top of the carrot seeds.
The peas already have a few pods on them.  What do you do when you only have a dozen peas in total?  Not a dozen pods; a dozen little rolly-polly peas.  Can I just leave them on the bush till we have enough to eat?
I love the little tendril things on the peas.  Every time I see one I want to pull it and watch it spring back to its tight little curl.
What else?  Three tomato plants – one cherry, one larger and one yellow.  That should give us a good variety for salads, sandwiches and snacks.
You might have realised by now that our food garden is based on a lot of hope and a tiny bit of know how.  We're also restricted to watering twice a week unless we do the bucket in the shower thing.  I'm not keen on that though.  I don't want soap and grotty bits (which don't bear thinking about) on our vegies thank you very much.
So anything we actually get to eat is especially precious.