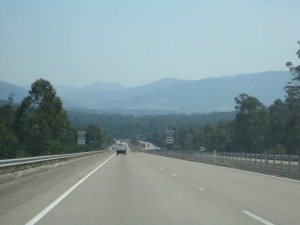 Our recent road trip up to the Coffs Coast involved nearly 3,000 km (about 1,860 miles) of driving.  That doesn't include sightseeing once we got there.  All in all we spent a good 2 1/2 days in the car each way.  I knew the road trip would be tough on the kids.  We have a Commodore wagon – only 5 seats, so the three little darlings were pretty much crammed in next to each other for 6-8 hours each day.  A recipe for love and joy. Not.
I was prepared though.  I read through my Planning a Caravan Trip – Keeping kids happy in the car post.  I went through the aisles of the local $2 shop and picked up little goodies that would keep the kids amused for hopefully an hour or so.  I spent a bit too long in the toy department of Kmart choosing a couple of extra "special" toys for each child.  Then I sorted and stashed them all so I would have something new and exciting to give each kid a couple of times a day on the road.
For the boy (8):

A selection of matchbox cars
Rubik's cube
Two of those annoyingly difficult metal ring puzzles (sorry, I don't know what they're called!)

For the girls (6 & 4):

A selection of Polly Pocket/Littlest Petshop toys
Travel tick tack toe

For everyone:

A plain notebook and pencil for writing or drawing
A colouring book in the favourite character of the moment
A few coloured pencils each (don't use crayons – they melt in the car and create a hideous mess)
A map of where we were going
I also loaded up the iPod with kids' songs, Monopoly and UNO.
Having a boy and girls ranging in age from 4 to 8 makes it hard to find something to please everyone, but I did my darndest.
We've resisted the temptation to buy a DVD player for the car or PSP's/DS's because I'm of the possibly misguided belief that road trips are a perfect time for family bonding.  More about that later …
We made sure to stop every couple of hours for a wander, snack and toilet break.  Good for the driver, good for the kids, good for mum's sanity.
By the time we arrived at our final destination I was still feeling quite happy with my goody bags. The toys were very eagerly received and were having the desired effect of keeping the kids from strangling each other.  I even had a couple of things left for the trip home.  Most of all I was on holiday and relaxed.
That was my mistake.  While I was unwinding the kids found the goody bag. "Can we have the toys in the bag, Mum?" Not wanting to move my sprawled out self I yelled back, "I suppose."  Then I promptly forgot about the goody bag.
I paid.  I paid big time.