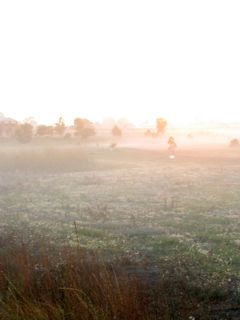 It's hard to stay motivated in winter.  It's cold, often wet and windy.  And dark.  Dark when the alarm goes off.  Dark when after school activities have finished.
I'm not all that keen on getting out and running errands any time, but in winter I need a pretty good reason to leave the house.  You know, like running out of food.  The normal everyday, carefree activities of warmer weather just seem so much harder in winter.
So what are some ways to stay or get motivated in the winter?
1.  Get up early
This is a toughy.  It's so cozy under the doona and so dark and cold out there.  However once out of bed it's generally not so bad.  The trick is to make yourself get up.  I do this by keeping my morning meds in the kitchen.  I need to take them an hour before breakfast, so if I'm going to eat before I drop the kids at school I have to get up at 6am.  You could set your alarm to that annoying buzzy noise and put it across the room, so you need to get up to turn the damn thing off.  Anything to get feet on the floor.
2.  Shower/dress as soon as you get up
So you've made the ultimate sacrifice and thrown off the covers, now to stay out of bed.  It's all too easy to sneak back in if you're still in your jammies.  For me, showering first thing has the added benefit of waking me up properly.
3.  Get some daylight in ASAP
There's nothing like a dark house to make you feel like curling up on the couch and staying there.  Open the curtains and a window or two if it's not too chilly.  Let the light shine.  Keeping yourself in the dark can contribute to SAD (seasonal affective disorder), which we definitely don't want to do!
4.  Rug up & get out
But it's cold and wet!  That's why we have snuggly coats, scarves and umbrellas.  This winter I bought myself a great coat and umbrellas for all the kids.  Now, unless the weather is atrocious we walk to and from school every day.  That blast of cold air is another wake up and the walk is a great time to have a chat with the kids.
5.  Music is your friend
If there's one thing to get you moving, it's your favourite (upbeat) music.  Listening to music (audio books and podcasts, too) keeps me motivated during housework.

6.  Group errands
Grouping errands makes sense from a time management perspective, as well as a motivation one.  Knowing that I can tick a bunch of things off my list in one go and that I won't have to visit the shops again that week helps get me out there and get it done.
7.  Find someone to keep you accountable
It's sometimes easy to give ourselves permission to skip out on what we should/need to do.  I know, I'm an expert at it.  That's where The Thinker comes in.  He's fantastic and giving me a kick up the backside when I need it to keep up.  Find yourself someone that's going to be a positive influence on your motivation to keep you moving forward.
8.  Use a timer
Most of the things we put off don't take nearly as long as we think they will.  Set a timer for 5 minutes and be amazed at what you can do.  Seriously.  Today, after a good 15 minutes of "poor me" thinking I was able to hang out the washing, gather up all the dirty clothes from around the house and put on another load in under 10 minutes.  Why didn't I just get it over and done with in the first place!
9.  Just do it
Sometimes, by pure force of will power, just making a start on something can set the ball rolling and get you out of a rut.  It's the starting that's the hard part.
10. …?
Number 10 is up to you.  What is something that you do to keep or get motivated in the winter?  Leave your tip in the comments below.