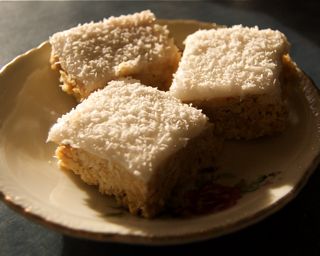 One of my favourite foods from my childhood is lemon slice.  My auntie used to make the most delicious one and it was all I could do to stop myself gobbling a whole plateful when I visited.  Then I learnt to make it in Home Ec and there was no stopping me.  Until I left home that is, and went through an "I don't cook phase".
That lasted about 8 years I'm sorry to say and I forgot some of my favourite recipes (no, I didn't write them down – I had a mind like a steel trap back then.  Gone now, but that's another story).  Like how to make lemon slice.  I knew the ingredients, but when I wanted to make it again I could never get the proportions right.  I was either too dry and crumbly or too soggy.
Then, one fateful day Planning Queen posted a lemon slice recipe on her blog.  It was THE ONE.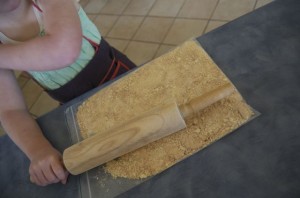 Crush a packet of plain sweet biscuits.  This is a fun job for the kids.  Stand back though, they can get a bit wild with the rolling pin.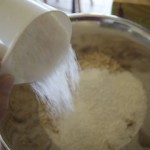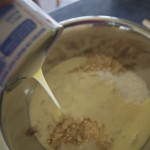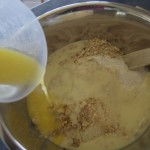 Add a cup of coconut, 3/4 tin of condensed milk, 100g melted butter & the finely grated rind of a lemon.
Stir it all till it's well combined.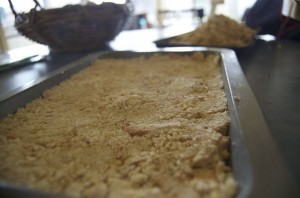 Press the mixture firmly into a slice tin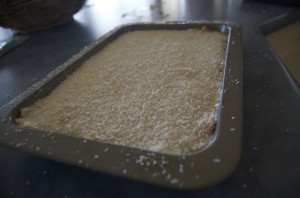 Ice with lemon icing – about 1 1/2 cups of icing sugar, the juice of a lemon and water if needed.  Sprinkle with coconut and pop it in the fridge for an hour or two, till the icing is set (if you can wait that long).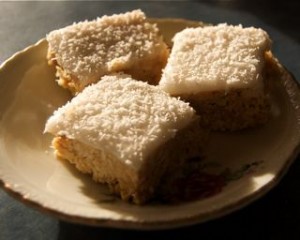 Delicious.