Every three months I need to have a test to check the leukaemia markers in my blood.  All it requires from me is a vial of blood; a few mills. But because of the fantastic lab work that has to happen, the test needs to be done in the wee hours of the morning in the big town nearby.  My blood is then promptly packed up and shipped off to Melbourne to the very clever people there that do what they do (a qPCR, if you're at all interested).
Consequently, I need to get Little Mermaid up and organised early in the morning so we can get to town in time to catch the pathology courier. (The Thinker takes Cinderella and The Engineer to school).
So on Monday morning about 6:30 I did my first wake up call for Little Mermaid.
This is what she looked like 10 minutes later when I went in for the second call.
Another 10 minutes, not much has changed.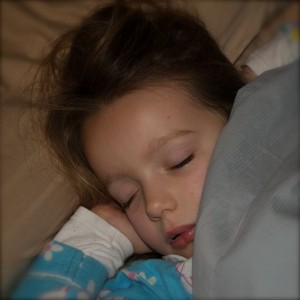 And after I tickled her … still snuggled.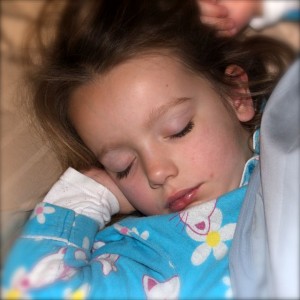 She's a crafty four year old though.  I'm sure her ploy is to stay in bed so long she doesn't have time for breakfast.  Then, of course, we have to go out for breakfast after my test.  Who am I to argue with that?