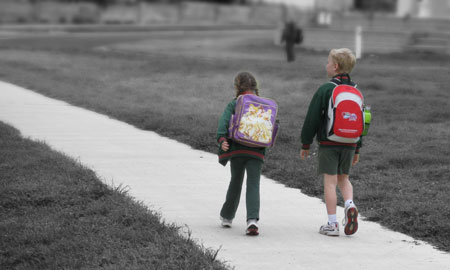 Over the weekend I discovered Free Range Kids.  It's a very interesting blog focusing on letting go and actually letting kids be kids. Anti-helicopter parenting, if you like.  Some of the statistics quoted are disputed by readers, but I think the general premise is a good one.  Rather than being irresponsible with your child's welfare (although some see it that way) it encourages parents to be realistic about potential dangers, to educate their kids in life skills and to let them discover.
I know I'm guilty of helicopter parenting sometimes, although as soon as I catch myself I try to take a step back.  It's not all that easy to give children independence sometimes.
Which brings me to walking to school.  On her first day of Prep, Cinderella wanted to walk to school by herself.  Usually a bit shy, I think she was feeling very grown up and responsible at the prospect of starting school.  Of course, I didn't want to miss that milestone, so I made some excuse about having to go along.  Since then, she and The Engineer have walked to/from school by themselves a handful of times.
We're not that far away and they only need to cross one road with traffic, right near our house.  So I walk them across and wave goodbye.  The first time I did this I watched them till they were little dots in the distance.  I don't know what I thought would happen to them and what I would be able to do from 500m away.
Yesterday I asked Cinderella if she'd like to start walking to school by herself.  I couldn't have imagined the chest-puffing pride that question would create for her.  It was wonderful to see.
The last two mornings I've waved them off and turned my back.  But not before noticing their very purposeful and self-confident strides.
I also took a huge chill pill recently and let all three kids ride their scooters in our court.  Again, I'm not sure what I thought would happen to them.  Watching the news and reading the paper, it's easy to get the impression that kids are in terrible danger each time they set foot out the door.  But they have rules they need to follow for their safety and realistically, the chances of something happening are very, very small.
The list of things that I balk at, but that could be done independently by the kids is probably a long one: exploring the wetlands near our house, riding their bikes to the playground, leave them at home while I get some milk.  It's all about educating kids to be ready for life.
Although as a parent it's sometimes difficult to take these types of steps, generally the kids are ready for them well and truly before we are.  And they're all part of growing up into sensible, independent adults.