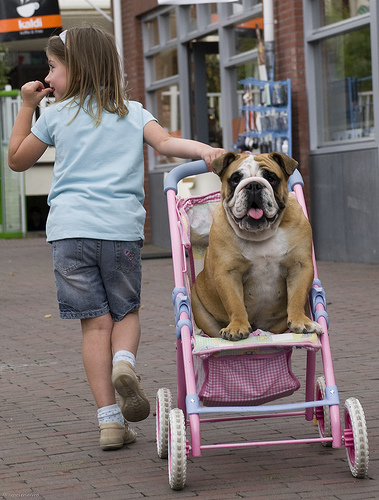 Do your kids love animals?  We are a two pet household (a cat and a dog).  Both were here before our children.  The first two kids aren't all that interested in the pets.  They'll give them a pat as they walk past sometimes, but that's about the extent of it.  Little Mermaid, on the other hand, is an animal lover through and through.
She's recently discovered that she can carry the cat around like a baby and subjects him to no end of pampering and baby talk.  She makes sure both pets are comfortable and warm in their beds and gives them a kiss goodbye whenever we go out.  In short, she spoils them rotten.
Our little dog is getting quite old now.  I think he's about 14.  While he's still quite sprightly, he's as deaf as a post, has hardly any teeth and I think he has a cataract in one eye.  Old age is catching up.  I'm terrified that Little Mermaid is going to say good morning to him one day and he'll have "gone to glory"* during the night.  What a day that will be!
The Thinker and I have been discussing over the last few years, whether we should get a new dog for the kids, after the inevitable happens.  While I love having pets around, to be quite honest, it's huge pain having to organise (and pay for) boarding or someone to look after them while we're away.  But I feel a bit guilty for lampooning the idea based solely on that.
So, what are the advantages of having a pet?
Pets may have a positive impact on health
Studies have shown that owning or caring for a pet may result in improved health:  decreased depression, cholesterol and blood pressure to name but three positive outcomes.
Well, not all pets.  But dogs in particular need regular walking and playtime.  Even a romp around the backyard, chasing balls or throwing sticks for 30 minutes are great ways to get the blood pumping.
Pets help develop a sense of responsibility
Having to care for and feed a pet is a great way to ease kids into an awareness that their actions have consequences and that their animals (and eventually people) are relying on them.
Pets can engender a love of learning
Pets give kids the opportunity to develop an interest in a particular animal, breed or any aspect of their care.  Given half a chance, many kids will seek out books and other learning resources to feed their natural curiosity.
Pets can help family relationships
As kids get older it can often become more difficult for them to relate to their siblings or even parents.  A common interest in a pet can be that "something" that brings the whole family together.
Pets can help teach life's hard lessons
Many pets have a relatively short lifecycle.  As difficult as it may be, they can help teach kids about birth, sickness and death.  Kids' first experience with some of life's more serious lessons may well come from their pets.
When I look at all these benefits I think my answer is self evident.  We will be getting another pet (probably another dog) and I'll just come back here for a little read each time I have to fork out a couple of hundred dollars to the boarding kennel

*"gone to glory" is a quote from one of the girls' Shirley Barber fairy books.  I can't decide whether it's sweet and quaint, or totally misleading.  But I find it hard to referring to the poor old dog as, well … dead.
Image by Ferdi's World