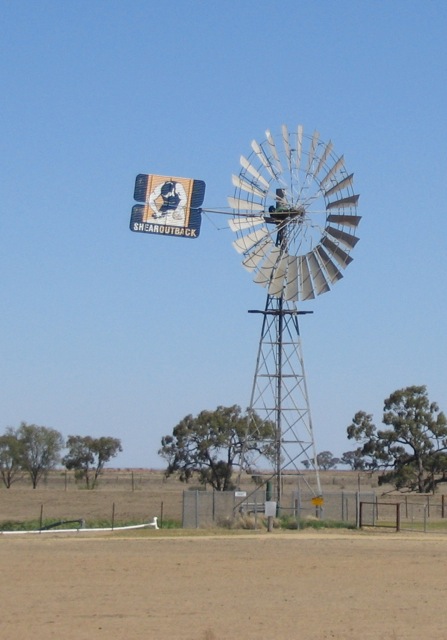 Little Mermaid loves windmills.  It took me a little while to figure that out because she used to call them wombats.  I was often surprised at the number of wombats she could spot in the middle of the day on western Victorian roadsides.
One holiday, less that an hour after we'd left home she declared it the best holiday ever when we drove past a windmill.  In the end it turned out to be a mixed bag.  After a massive dust storm in Griffith it became the worst holiday ever.  Fortunes again changed when we reached the Shearer's Hall of Fame in Hay which has a couple of windmills.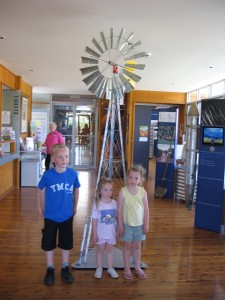 They really were excited there – I can't quite figure out why they have that strange look on their faces.  Perhaps they could see icypoles in the cafe.
Little Mermaid's excitment reached a crescendo when we arrived in Robinvale to find an enormous shiny windmill at the entrance to the caravan park.  Who cares about the playground when you can get right up close to a windmill.  So over we went for a look.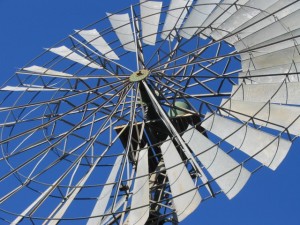 I tried to turn it into a bit of an educational experience by reading out loud the plaque.  Apparently it was used for Robinvale's water supply a while ago.  They've moved on from windpower now and no doubt have introduced a more efficient, more expensive carbon spewing method of getting their water.
The kids, surprisingly enough, weren't all that interested.  It was big and shiny and spinning, that's all that mattered.  Even I ended up with far too many photos of it.