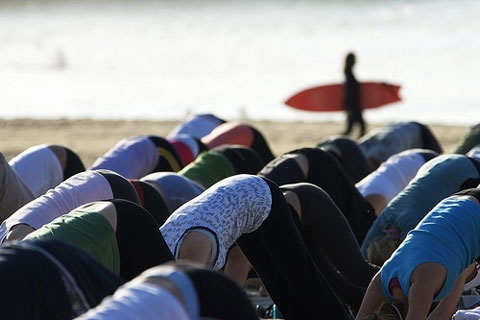 Photo by tarotastic
After a long time thinking about it, I was recently able to swing childcare, school and location so I could enrol in a yoga class.  I knew some of the benefits of yoga and they seemed to fit well with what I wanted from a health perspective.  My yoga teacher has been doing classes for over 30 years, so she's been able to reveal many more advantages that I hadn't even considered.

I'm so glad I made the effort to juggle things and get involved – it's been a good fit for me in more ways that I had imagined.  This list is really the tip of the iceberg, but contains some of the benefits that I've either sought out or experienced.
1. Weight reduction
The improvement in metabolism, muscle tone and function of the internal organs can assist a great deal with weight reduction.  In addition, yoga can help with a positive mindset so important in losing weight.
2. Respiratory system
Yoga focuses very much on controlled breathing and correct breathing technique.  I was surprised how different correct breathing felt (although I wasn't aware I was doing it wrong!) and how much better I felt by filling my lungs completely.
3.  Circulation
Through correct breathing and internal massage nutrients and oxygen are carried efficiently throughout the body.
4.  Pain and stress management
Again through deep breathing and focus pain and stress are more easily managed.  I found during my last bone marrow biopsy that by using the techniques I had learned at yoga, I was much calmer (no shakes) and while the pain was still there it wasn't as intense as usual.
5.  Improved posture
Correct alignment is all important in the various poses.  In addition raising the awareness of posture, yoga strengthens the various muscles and ligaments to enable a better posture.
6.  Bone strength
Many poses are weight bearing (your own weight) and therefore assist in maintaining bone density and strength.
7.  Improved memory and focus
Another advantage of breathing correctly is more oxygen to the brain, helping concentration and memory.
8.  Immunity
The movement and internal massage of yoga create an improved lymphatic system which in turn increases the effectiveness of the immune system.  The regular use of a neti pot also helps keep bugs at bay.
9.  Improved joint function
The gentle exercise of muscles and ligaments keeps joints flexible and moving freely.
10.  A feeling of calm
Meditation is an important part of traditional yoga.  In addition to dedicated time to focus inwardly, working through some of the poses leaves a feeling of calmness and wellbeing.