Over the Christmas break and summer holidays I made a conscious effort to let go of some of the restrictions we place on ourselves during the rest of the year.  Schedules pretty much went out the window and, to a certain extent, so did any sort of budgeting.
Now that the new year is well and truly underway, it's time for us to start reigning in our expenses for both day to day items and the special purchases we've been treating ourselves to.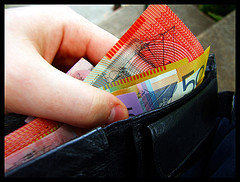 Key Areas this Month

Household expenses: The majority of our household expenses have stayed steady over the last few months, with the exception of our mobile phone bill and spending on groceries.  The phone bill went up while we were away has looked after itself and is back down to the minimum level as I don't really use it at home.
The killer has been groceries.  Some weeks it was almost double our usual spend. In the first few weeks of our new financial focus this is where I'll be paying most attention.
This week I've been cooking from ingredients we already have in the house.
We've finally got organised to buy fruit & veg at the market.  The Thinker has to go during his lunch break, but the amount of money we've saved (cut the usual spend in half) and the quality of the product makes it so worthwhile.
Budgeting: We haven't been very good in the budgeting department lately.  Aside from some automatic transfers to savings accounts, we been flying blind as far as where our money is going and how much of it is going there.  Last pay we reset our budget and it is updated and reviewed weekly.
As we overspent a little (not a lot) over the break, we need to be especially careful that we stick to our plans for the next few months.
It's going to take a couple of months to get entirely back on track, but by focusing on selected areas and maintaining that focus until it once again becomes habit we will get there.
Did you have a blowout over the holidays as well?  What areas are you focusing on to get back on track?