Each Tuesday in July, I will be writing about a different aspect of being prepared for Christmas. Some parts may help with your Christmas in July celebrations and some may just get you thinking about December.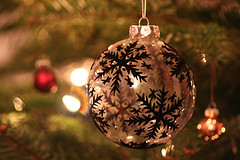 One of the things that comes to mind when I think of Christmas is a table covered in delicious food. First the nibbles, Christmas lollies and other sweet delights. No sooner were these cleared away, then the main course appeared – a selection of roast meats, steaming vegetables and rich gravy. As if we weren't bursting at the seams at the end of the main course, the luscious desserts with all manner of creamy sauces were then wheeled out.
Despite lingering over Christmas lunch for a good few hours, the amount of food always meant everyone would be groaning and patting their stomachs, complaining of eating one too many pieces of plum pudding by about 4 in the afternoon. The grown ups (men) would then find somewhere comfy to sleep off their lunch while the women seemed always to be at the sink washing up. Us kids, of course would be running off our lunch playing hide and seek or some other energetic game with cousins not seen since last Christmas.
Even though the weather here in Australia is often hot at Christmas time these magnificent lunches were almost always the traditional menu. No such thing as a cold salad on my grandmother's Christmas table! Gradually, our Christmas menus have morphed into something more suitable for the summer days.
Which is where Christmas in July comes in. For me, it's an opportunity to enjoy delicious Christmas fare without breaking out into a sweat in the kitchen. It's one way to recapture those wonderful childhood Christmas days.
Christmas Recipes
Here are three of my favourite traditional Christmas foods:
More Christmas Recipes
What foods say Christmas to you?
More in the Christmas in July series
Flickr photos by DPS and avlxyz