Welcome to the readers of the 164th Carnival of Personal Finance, kindly hosted by Squakfox. If you're new to Journeyer's Chronicles, I'd like to extend an extra big welcome. I hope you enjoy your visit. You can find more of our personal finance experiences here. And don't forget, if you enjoy your visit you can get regular updates by subscribing by RSS or email.
We have been facing quite a few challenges to being frugal over the last couple of months. When we made the commitment to live without our credit cards and , we knew it wasn't going to be easy. We knew we would be tempted to buy things and that we would need to make an effort to cut costs. What we didn't thoroughly consider was the things beyond our control that would affect our goal.
There are lessons to be learned for anyone considering a more frugal lifestyle. First, lets have a look at the issues we've faced.
Maintenance Issues
Our house and the appliances in it must be reaching that certain age when things just start going wrong. This is what's happened in the last six to eight months:
The washing machine finally died. It was around 10 years old and had been repaired probably three times during its life. This time it was going to cost nearly $400 to fix. Enter new washing machine.
We discovered a leak around a window. Fortunately it's on a side of the house that doesn't often feel the full force of the weather. However it will still need to be repaired. It's on the second level in a very awkward position where I don't feel comfortable having The Thinker clambering around. So that will be a handyman job, quite possibly with the added expense of scaffolding.
The dishwasher died. I have put off even having someone look at it as we consider it a "nice to have". Last week I was sick of having my hands in the sink for a good part of the day so I called the repairman. On his visit today he advised that it will cost over $200 to repair and might only last six months as the motor is getting quite worn. So now we have a dishwasher on our wants list and I still have dishpan hands.
The . Can you see a pattern happening here?
Lesson learned
While some of the things on this list are non-essentials, it still serves as a reminder that maintenance expenses need to be considered. Have some money put aside to cover the unexpected emergencies that will, without a doubt, happen (if you live in our house anyway). Use it for what it is intended (see next item).
Playing catchup
Our plan was to put money aside each month for the periodic bills so we would have it there to pay them as they came in, without taking a huge chunk out of our monthly income. We've had these few unexpected maintenance expenses, along with some large annual bills coming in around the same time. The upshot is that we haven't had long enough to build our periodic bill savings to cover them. It feels like we're playing catchup after each round of bills. This is quite disheartening as it's difficult to see where there will be an opportunity to build a good buffer.
One of the reasons for this may be for the maintenance expenses. Instead I have tried to squeeze it from what we have available in our bills account. These unbudgetted items then leave us short when periodic bills come around.
Lesson learned
Use the emergency account for emergencies. That's what it's there for. On the flip side, be wary of what you class as an emergency. Our new TV did not come out of the emergency fund. We saved for an (interesting) couple of months.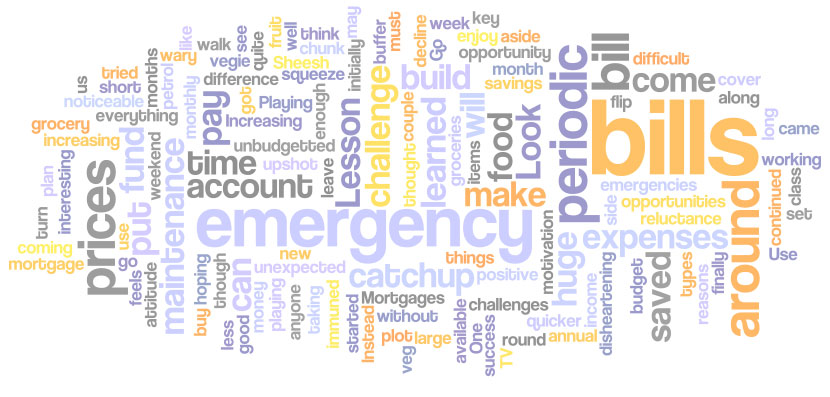 Increasing prices
You make a well thought out budget and then they go and put all the prices up. Sheesh! I don't think anyone has been immuned to the increasing prices of everything. Mortgages are going up, petrol is going up, food is going up.
This is a challenge I can turn around though. I can set the challenge to pay off the mortgage quicker, walk more and buy our groceries for less. These are the types of things I enjoy working at.
Look at that. I saved $30 off the grocery bill this week. Go me!
We finally got our vegie plot started on the weekend. While it won't make a huge difference to our food bills initially, we're hoping there will be a noticeable decline in our fruit and veg bill over time.
Lesson learned
Look for opportunities in challenges. A positive attitude is a must and motivation is the key to continued success.
Motivation
Sometimes, it's just plain hard to stay motivated. We've been putting in a good effort over the last few months as far as frivolous spending goes, but it doesn't seem like we're making huge inroads. Perhaps we're so used to rewarding ourselves with things, that unless we do that we feel we haven't accomplished anything.
One of the things I've done to make it easier for me is to give up shopping for recreation. I used to go to shopping centres probably twice a week and always leave with something. Sometimes a large purchase, sometimes small. By not putting myself in that situation, I've found it easier to stay motivated. I still have the spending habit when given the opportunity though.
Lesson learned
Don't put yourself in a situation where you know you will spend money you can't afford. Just last week I spent around $100 on a quick visit to a new shopping centre (just to have a look, mind you). Nothing I desperately needed, but I was so tempted by everything around me that my motivation went straight out the window.
Remember what motivated you in the first place and keep those reasons prominent. I was also listening to for a while, which I found really motivating. I think I need to start doing that again. Listen, read, do.
What are your biggest challenges when it comes to money?
Photo: Another Gray Day on Flickr – Photo Sharing!