I've finally finished sewing two little for Cinderella and The Little Mermaid. It was very simple sewing and each skirt only took around an hour to make. Me being me, I made one and then went on to do something else while the other one languished in it's cut out state on the sewing table for a week.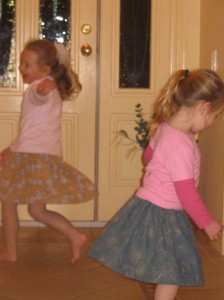 To download a free pattern and instructions for making the skirt click here.
Both girls are very happy with their skirts and want to wear them all the time. I must remember to savour this, because I'm sure a time will come when they cringe at any homemade clothes. Everyone's wardrobe is complete for the winter now, although all the kids may need new tracksuit pants before the end of winter at the rate they're growing.
Now I can turn my attention to my next sewing project. Before children 2 and 3 came along, I used to do quite a bit of sewing and I have a few projects stored away that need to be completed. I'm not sure whether I'll pick one of my unfinished quilt tops or a little stitchery to do first. Perhaps I should start small with the stitchery