Today I'm making a start on another of my . I'm going to make a skirt each for Cinderella and The Little Mermaid. I have had a search around and found some fabric (pictured below) that I bought years ago, when Cinderella was little. I think there will be enough fabric for both skirts. I also have a pattern from a sewing magazine that I subscribed to maybe 13 or 14 years ago. Fortunately it's a fairly timeless style of skirt and I don't think they'll look too daggy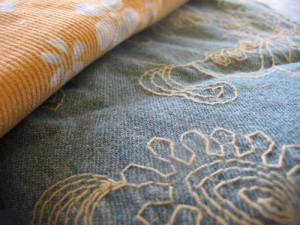 The girls are very excited to have something sewn just for them. Last week for Education Week I spent a good few hours making a bird costume for The Engineer, so they were feeling a little left out.
Before I left home (too many years ago to think about), Mum bought me a second hand Husqvarna sewing machine. I used to do quite a bit of sewing before children 2 and 3 came along. Initially it was clothes, then I got hooked on quilting. The poor machine has been sitting pretty quiet for the last few years though. It will be good to give it some work again.
I'm coming to realise that skirts are a great item of clothing for kids. As long as they have an elastic waist and start off a reasonable length, the girls can get at least two years wear out of them. It doesn't matter too much how much they've grown – the skirt just becomes a little shorter. I wish The Engineer could wear them. He grows out of his jeans almost as soon as I buy them!
Depending how I calculate it, the skirts will cost around $10 each (the original price of the fabric and a bit factored in for the pattern) or nothing (I bought the stuff so long ago – does the cost still count?) to make. Either way they're a bargain.
If they turn out OK, I'll post a photo of them next week. While you're waiting here's a few sewing resources to check out.